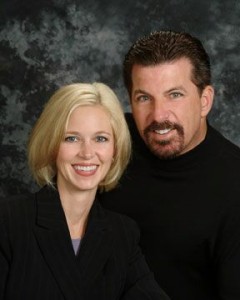 Larry was born and raised on his family's dairy in Elk Grove, Ca. After retiring from the dairy business, he now sells real estate and is also the proprietor of Viaggio Winery in Acampo. Larry is very knowledgeable in farmer's issues and open land properties. He is a past President of the Sacramento County Farm Bureau, where he has been a member for over 30 years. Those who know Larry know that he is a very honest, sincere and likable person.
Teri has her B.S. in Microbiology from U.C. Davis and has been licensed with the State of California for several years. She greatly enjoyed her work in science, but wanted to spend more time with Larry and their family, so she transitioned to a career in real estate. She is also co-proprietor of Viaggio Winery with Larry.
Larry's hobbies are scuba diving, golfing, and traveling. He has raised three great sons. The oldest, Larry II, is an attorney in the Los Angeles area. His middle son Scott is establishing his own custom farming business. His youngest son Randy is just completing his Master's degree in Case Management Nursing and is a Registered Nurse.
Teri enjoys scuba diving, swimming, gardening, and traveling. Teri also enjoys snow skiing with her only son, Bryce. Bryce is majoring in Christian Music at Christian Life college and is also engaged to be married. Teri is also a founding member of Diversity Reform USA and an active member of Eagle Forum of Sacramento, where she keeps abreast of current events regarding the family and business affairs.
Larry and Teri both enjoy the real estate business and want to make your experience of buying and/or selling your home/property as fun for you as it is for them. Call them and they will help make your home buying and selling a unique and enjoyable experience!
Realtor specializing in Sacramento, Elk Grove, Wilton, and Galt.